Health Insurance
15 lesser known facts about Health Insurance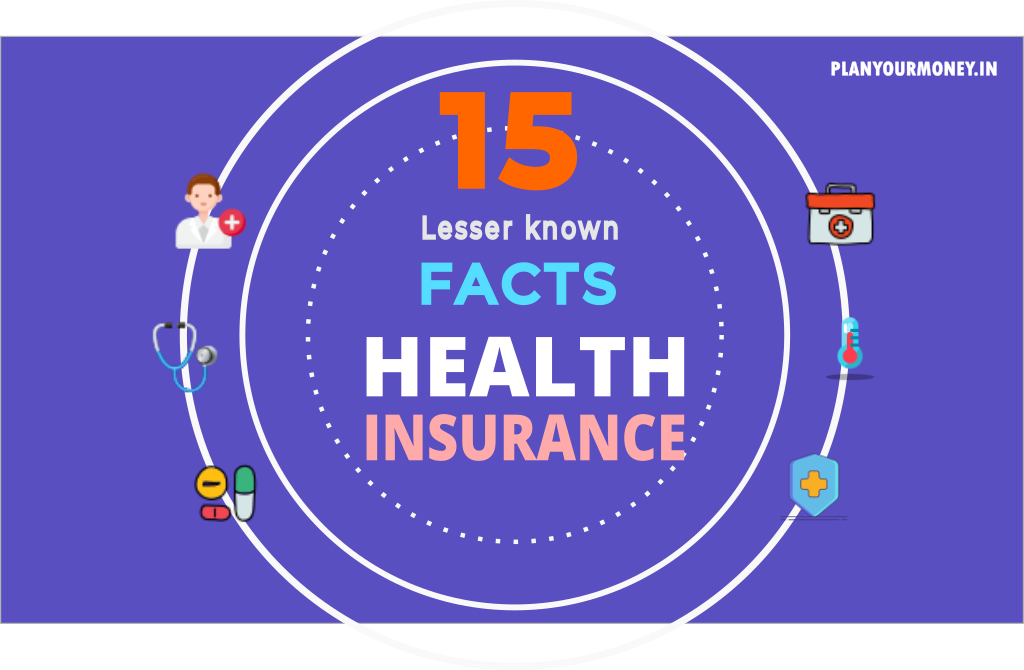 Health insurance forms an important part of your goal planning and it covers a major risk where financial resources could get depleted. With health insurance, you cover / transfer the risk. Health insurance is not an easy product to buy off the shelf and one requires a good understanding of its features and benefits before purchasing the right product including the amount of cover. Each individual is different and therefore one needs to understand the finer features of the product. Lower the premium and therefore the product doesn't make sense.
1. Company provided health insurance
Health insurance provided by the company ceases the moment you are no longer employed
2. Age limit - Reluctance - Insurance
Health insurance companies will be reluctant to provide insurance once you cross 50 or so. With BP / diabetes, the reluctance shows up in the proposal and the limits set by insurance. Even if they do, premium will continue to remain high and benefits will be low
Show picture of limits
3. Annual health checks
Annual health checks are provided by health insurance which you can take benefit of.
4. Ambulance
Ambulance amounts are reimbursed. Road and in some cases even air ambulance subject to a limit.
5. Room Rent
Room rent is a deciding factor in calculating the amount that will be reimbursed on your total bill
6. Medical Expenses vs Non-Medical Expenses
We know that medical expenses are covered in health insurance but there are many non-medical items that are utilized which are not reimbursed. Certain insurance policies cover non-medical expenses for a higher premium.
7. Second Medical Opinion
Insurance companies provide a second medical opinion. This is important in case of major surgeries.
8. Standard Exclusions
Pre-existing diseases, waiting period , obesity, cosmetic procedures are generally put in standard exclusions.
9. Waiting Period
Based on type of disease, there will be waiting period and this could range from 30 days to 3 years.
10. Maternity expenses
Health insurance generally cover maternity expenses with an extra amount towards premium.
11. Moratorium period
Moratorium period is generally after completion of 8 continuous years of you paying the premium. After the expiry of moratorium period, no health insurance claim shall be contestable except for proven fraud and permanent exclusions provided in the Policy contract
12. Portability
The Insured Person will have the option to port the Policy to other insurers by applying to such insurer to port the entire Policy along with all the members of the family, if any, at least 45 days before, but not earlier than 60 days from the policy renewal date as per IRDAI guidelines related to portability.
13. Claim Ratio
Claim settlement ratio is calculated by dividing the number of insurance claims settled by the number of insurance claims received by the insurance company. Higher the claim settlement ratio, better are your chances of getting your claim settled.
14. Co-payment
Co-payment means a cost-sharing requirement under a health insurance policy that provides that the Policyholder/insured will bear a specified percentage of the admissible claim amount.
15. Discounts for active workout
For active workouts, discounts upto 30% are provided on the premium. Insurance companies have trackers which track your footsteps and workout and based on certain criteria are willing to give a discount of upto 30%.
Conclusion
There are some very good products in Health Insurance at the moment and some of them could actually fit your needs.
Given the unpredictability of events taking place, I strongly recommend a health insurance. Apart from health insurance, keep some amount separate in case of unforeseen circumstance.
In case you have challenges in buying the right health insurance, you can reach out to me via email or send a message in LinkedIn