1 year of Personal Finance
Celebrating 1 year of Personal Finance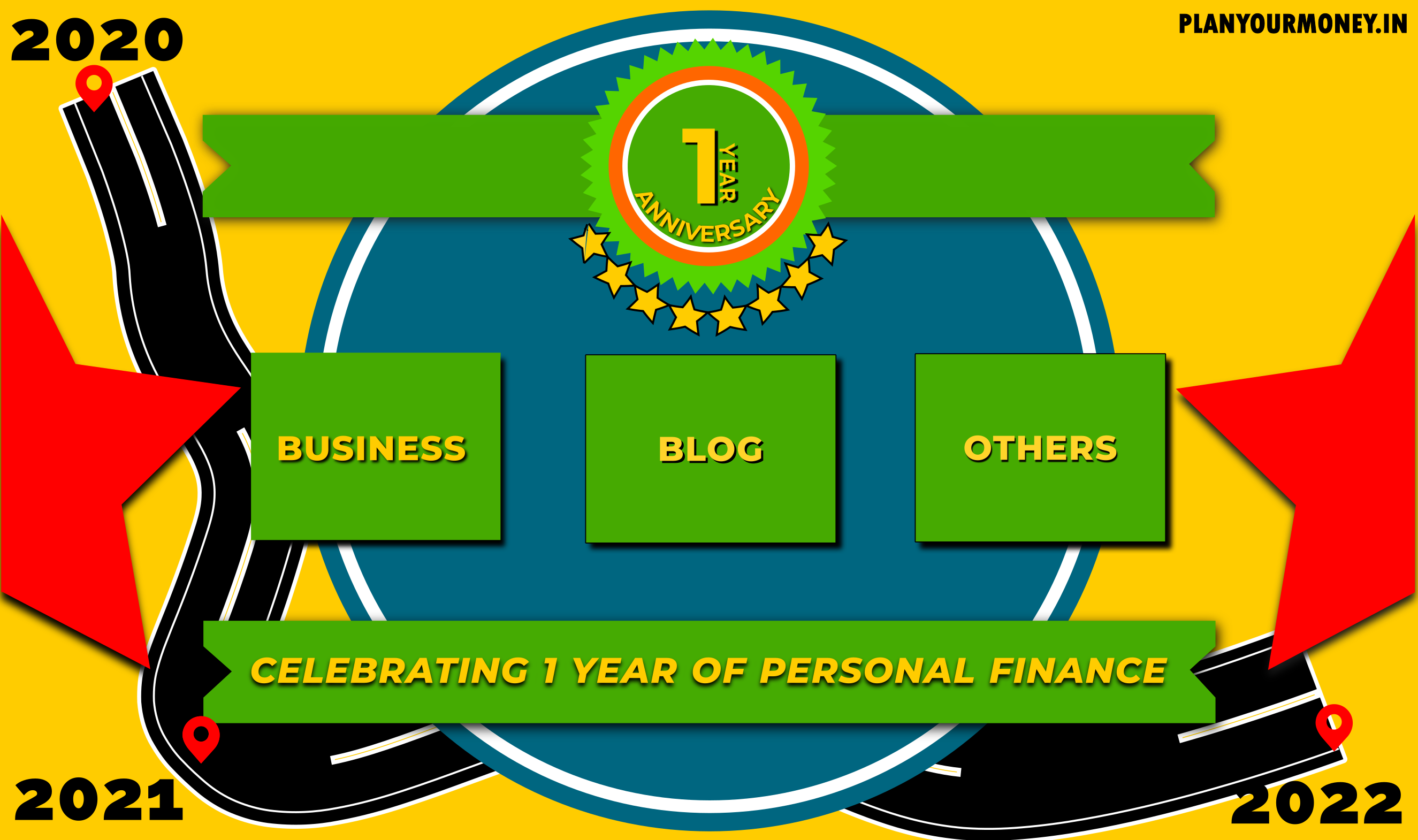 It has been a roller-coaster ride for sure. I had kept several goals for myself and have been able to achieve handful of them. I am glad that many of you have found my blogs useful and educational . The aim was to help individuals understand the complex maze of financial planning and therefore pick the right kind of mutual funds . I have been able to help investors choose the right mutual funds and they have a broad grin when they look at the returns.
Business
I started my MFD (Mutual Fund Distribution) business in October 2020 .
Thanks to the overwhelming support , many of you believed that I would be able to pick the right mutual funds for your requirements.
Thanks to the "forever" bullish stock market, returns received by investors have been in double digits (not providing a number, otherwise it provides a reason for Anchor Bias)
Thanks to an education initiative , some of you have also invested in debt mutual funds and happy to see that your returns are higher than FDs
All the investors are happy with the returns , but the true test of any distributor / advisor is during "bear" run of the stock market and to keep investors invested
Especially for KYC compliant investors, the entire operation of onboarding has been paperless
Digital transactions have reduced the overall cost considerably
80% of my portfolio is in mutual funds and 5% in stocks. All my mutual funds are in positive and also have made good profit but there are embarassing losses in stocks . Therefore I have full conviction that the right mutual funds will provide you enough reason for joy and cheer in the long run.
Blog
I have been publishing articles to spread awareness on which mutual funds would be best suited for which scenarios.
My first blog was on Inflation
My personal journey towards financial independence was well received by many of you.
Goal Planning articles was an attempt on my side to improve the awareness of financial planning
Although I am an MFD, I still support schemes like Public Provident Fund and Sukanya Samruddhi Yojana
Till date, I have written 35 articles and although, my pace has dropped, I am fairly happy on the content that I have been able to put.
Many of you have said that the financial jargon with my content has been made simple and you are able to relate and understand it
Others
Investors
I believe that many investors require a consolidated view of their financial assets and liabilities
Parting money to anyone requires a trusting partner. However, parting information about money also requires a partner whom you can trust completely .
Many investors require alerts on their financial instruments. It could be maturity of FD's, paying premium for insurance, or paying your SIP's on time.
Investors require a networth report(mainly mutualfunds) for investors and a periodical review help them gauge their progress.
Personal
I am pursuing my MBA in Finance and this has opened multiple ways of looking at an organization
Education has improved my knowledge significantly and able to think in a holistic manner
Built tools to improve my analysis of picking the right mutual funds
Roadmap
AMFI publishes a lot of data on a regular basis which gives insights in trends of mutual fund industry. I plan to showcase some of these trends.
I also plan to provide a portal for investors to see a

consolidated view of their investments
provide alerts to investors

The next year would bring a lot of changes to the economic situation, unless COVID decides to elongate its stay. Government would be quite active in bringing lot of policy level changes. This could make certain other asset classes interesting.
Articles on Insurance and Wills are long pending and this should guide some of the investors / readers to ask the right questions
Workshops on financial planning
In case you would like to understand more about my services , please go through this document or you could email me.